Marketers can use film as a media to create a rich storytelling experience that changes hearts and minds while also driving positive consumer behavior change.
As humans, our lives are shaped by a variety of narratives. As early as childhood, storytelling is used to spark our imagination while simultaneously teaching us both lessons from the past and possible options for our future. In today's society, we find a mix of narratives influencing our culture, where inspirational leadership is needed to unite the masses – this is where brands can step in. Marketers are not just guardians of a brand, they're the co-creators of our societal narrative, and a brand's messaging has the ability to drive culture change. Brands are storytellers, helping move culture and consumers forward on the journey towards sustainable living. Never before has the power of the stories we tell held such importance or latent opportunity.  
Evaluating the impact of a story can be a subjective practice unless there is the ability to measure its effectiveness. The marketing industry has many tools to measure all kinds of brand lift and sales potential from advertisements, but until now, there has been no shared industry tool to measure whether an ad can get people to take action on purpose-driven initiatives, or how that communication may halo for the brand itself. Sustainable Brands, in collaboration with the Corporate Partners of the SB Brands for Good initiative, including Procter & Gamble, PepsiCo, Visa, and Nestlé, have developed a tool to answer this need, which is available for all brands across all industries to use. The Ad Sustainability Awareness Platform, or ASAP, measures an ad's ability to drive consumer action against the Nine Sustainable Behaviors, as well as its impact on overall brand favorability. Through proprietary research, these nine specific behaviors have been identified as the most impactful behaviors that brands and consumers can take together to create positive change and drive a culture of sustainable living.  
Learnings from the ASAP tool, paired with top tips from renowned brand and creative leaders, reveal how effective storytelling can be created through video ad messaging in a way that communicates with authenticity, credibility, and relevance – allowing brands to drive positive behavior change and increase overall brand favorability.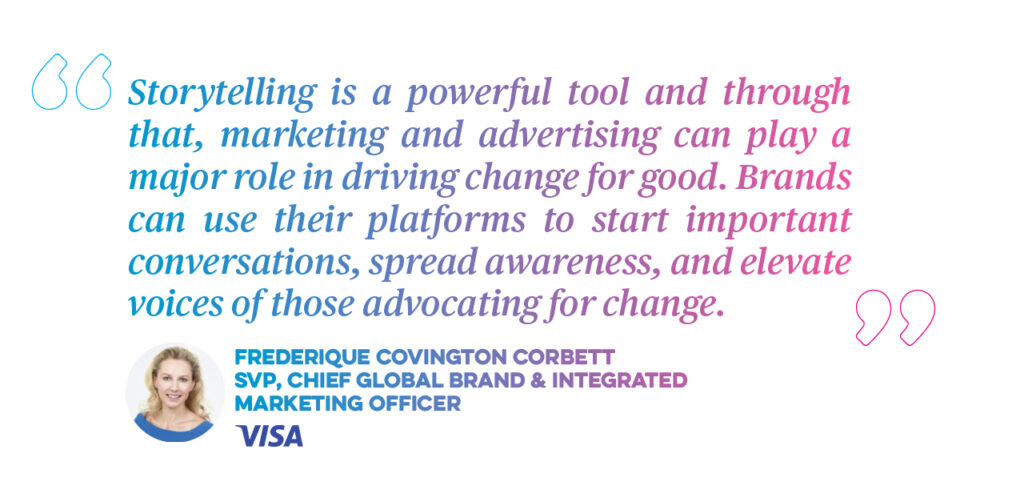 It is time for brands to move beyond simply trying to change people's attitudes and instead focus on enabling sustainable consumer behavior change. SB Brands for Good research shows that one of the primary hurdles to living a more sustainable life is simply not knowing where to start. This is a huge opportunity for brands to become leaders in this space through inspiration and education on ways people can come together and take action. For example, when creating any communication, whether a one-off ad or a fully integrated campaign, including a strong Call-To-Action (CTA) is the best way to move from a place of advocacy to driving consumer action. Ads tested through the ASAP tool show that even ads with a weak CTA outperform those with none. These same ads consistently scored above the norm on the 'Brand Favorability' metric as well. This suggests that consumers are receptive to learning and ultimately adopting new behaviors, and they favor the brands that are taking the lead in showing them how. 
Society is led by the public narratives that move us. Brands that lead the way and offer tangible ways for consumers to live more sustainably win a competitive advantage; and research shows that consumers are more eager than ever to learn about brands' sustainable initiatives and support the brands that are doing the most good for people and the planet. Together, brands can create a collective impact that drives society toward a sustainable future by developing impactful video ad messaging for good.
Excellence in Execution Series
The SB Brands For Good Excellence in Execution series is a collection of playbooks for creating breakthrough creative work across a range of marketing areas, including a list of best practices and a library of inspirational examples that drive action on the Nine Sustainable Behaviors. These guides have been co-created by the Corporate Partners of the SB Brands for Good initiative who share their best-in-class case studies and thoughtful insight on what they have found to be optimal creative solutions for their marketing strategies. 
Visit sbbrandsforgood.com/excellence-in-execution to learn more about this playbook series, or contact Brands for Good at [email protected] to learn more about joining the world's leading brands unleashing the power of their brand influence to drive consumer behavior change at scale.