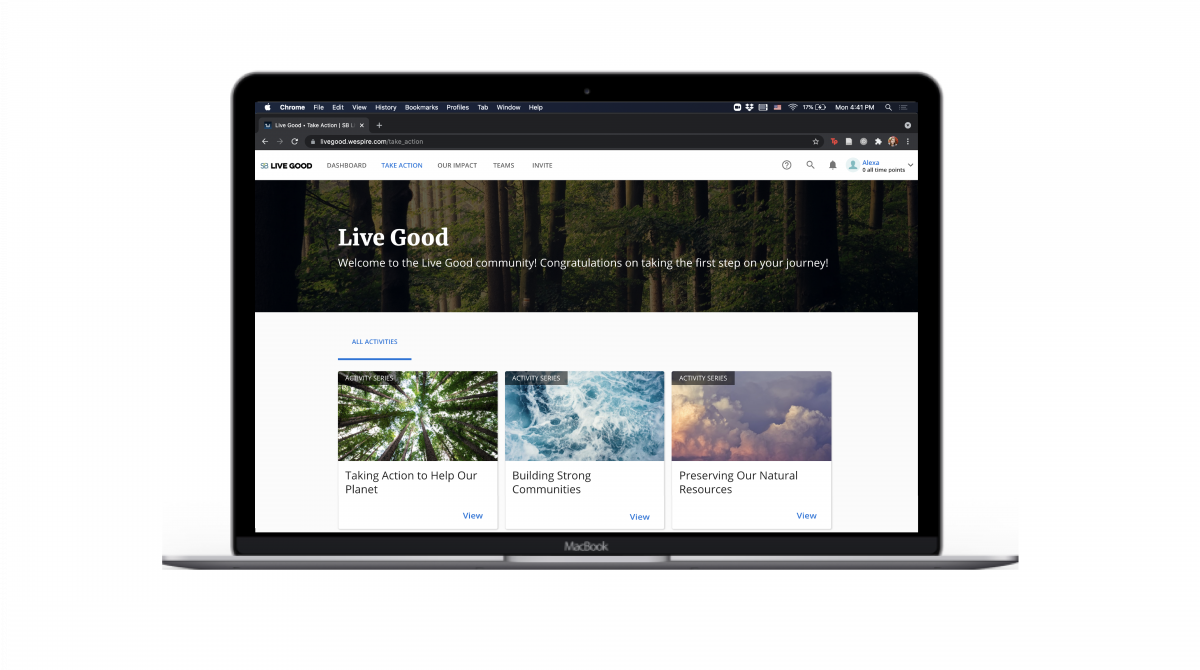 Unleashing the Power of Brands to Make Sustainable Lifestyles Desirable, Accessible, and Rewarding
In a time of vast global change, consumers expect brands to not only build better products, but also help them adopt more sustainable behaviors and habits. Now there is a way for brands to engage people, based on consumers' core values, and easily guide them with incremental nudges to change behaviors thereby creating sustainable habits that endure.
SB Live Good is an online community and self-assessment tool that inspires and empowers people to adopt more sustainable lifestyles by delivering on the Nine Most Impactful Behaviors. Users track, celebrate, and share progress toward adopting more sustainable lifestyles, while also providing organizations with unparalleled analytics about the environmental, social and business value of their contributions.
Unlock your brand's potential to drive sustainable lifestyles
This comprehensive platform gives marketers and sustainability leaders the ability to:



Improve consumer and employee engagement through shared goals within an online community
Better understand the environmental and social impact of your business through impact metrics
Drive behavior change toward the adoption of sustainable behaviors at scale
The Live Good platform offers a comprehensive toolkit for brands, including 4-6 months of behavior change nudges and actions, all organized into campaigns and geared specifically for different user archetypes.

The SB Live Good community is open to all brands with the ability to either join the global community or create your own brand-specific private community.