SB Brands for Good has submitted two prospective panels for SXSW 2022, both focused on the role brands play in our ever-evolving efforts to promote a regenerative, flourishing future for all. Check out the panel topics below and take a moment to place your vote – voting is open through August 26!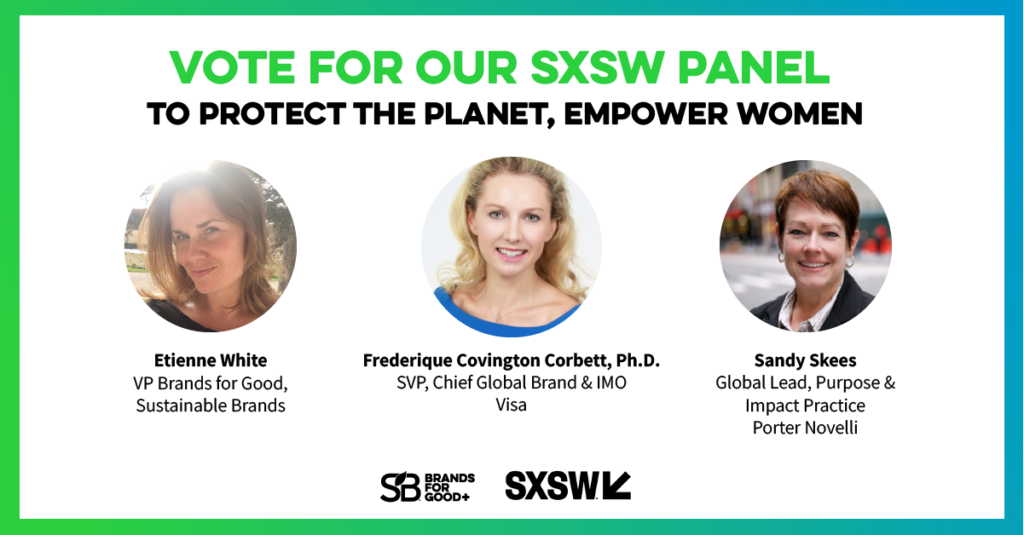 With Etienne White (VP Brands for Good, Sustainable Brands) in conversation with Frederique Covington Corbett, Ph.D., (SVP, Chief Global Brand & IMO at Visa) and Sandy Skees (Global Lead, Purpose and Impact Practice at Porter Novelli.)
The COVID-19 pandemic has disproportionately affected women, with women losing 5.4 million jobs over the first 10 months of the pandemic (1 million more job losses than men), taking on the majority of unpaid family work, and being more likely to get long COVID. In the 17 SDGs, the UN acknowledges the vital role of achieving gender parity in mitigating the climate crisis.
As the keepers and creators of culture, what role do brands play in supporting women and girls, and what responsibility do they have to consumers to educate and inspire action towards achieving this SDG? In this panel, hear breakthrough ideas from leading brands on how they're moving beyond philanthropy and towards creating measurable change in supporting women and girls.
Vote for this panel here: https://panelpicker.sxsw.com/vote/117764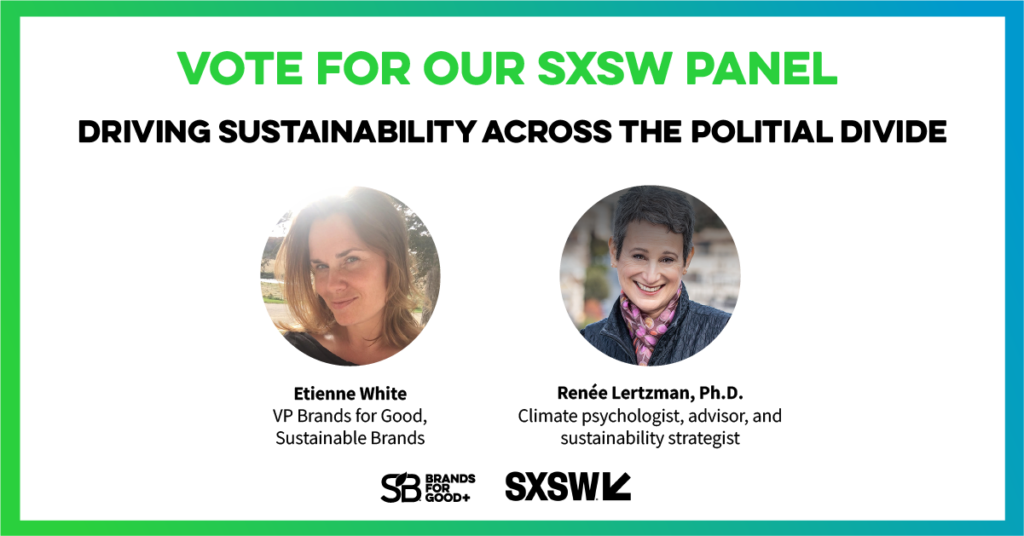 With Etienne White (VP Brands for Good, Sustainable Brands) in conversation with Renée Lertzman, Ph.D. (Climate psychologist, advisor, and sustainability strategist).
While social and traditional media benefit from polarizing us into a sense of tribalism, and climate change has become a political buzzword, you would think that sustainability would be an increasingly liberal initiative. Surprisingly, when it comes to sustainability, consumers are aligned on the world they want to leave behind. We'll be sharing new research that shows with the right techniques, we can engage people in sustainable behavior from both sides of the aisle. Brand and culture leaders can learn what language nuances and frames of reference to use to unite us in making sustainability a human issue instead of a political one.
Vote for this panel here: https://panelpicker.sxsw.com/vote/118425