Understand consumer intentions and actions towards sustainable lifestyles.

Thank you for joining us at the first CMO Sustainability Accelerator Roundtable on April 6, 2022. It was a pleasure sharing inspiring insights with you from the Socio-Cultural Trend Tracking Research conducted by Sustainable Brands in partnership with Ipsos. To download the presentation, please fill out the form below.
For a limited time, you may also submit one brand to be included in our next round of annual U.S. research for the exclusive price of $5,000 (retail value $12,000). This offer is available to CMO Sustainability Accelerator participants, and only to the first 10 companies that indicate interest using this form by April 29, 2022.
As a result, you'll see how consumer perception of your brand compares on average and with other brands when it comes to driving the most impactful social and environmental behaviors and building trust in the context of sustainability. Sustainable Brands will provide this through a brand scorecard, report and a post-survey call to review the results.
Start tracking your brand's effectiveness today and unearth insights to help you build more business and greater affinity tomorrow!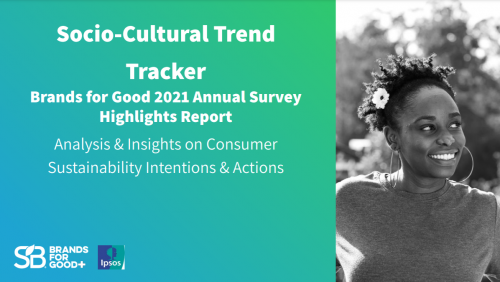 Download the Research Presentation and Learn More About Participation